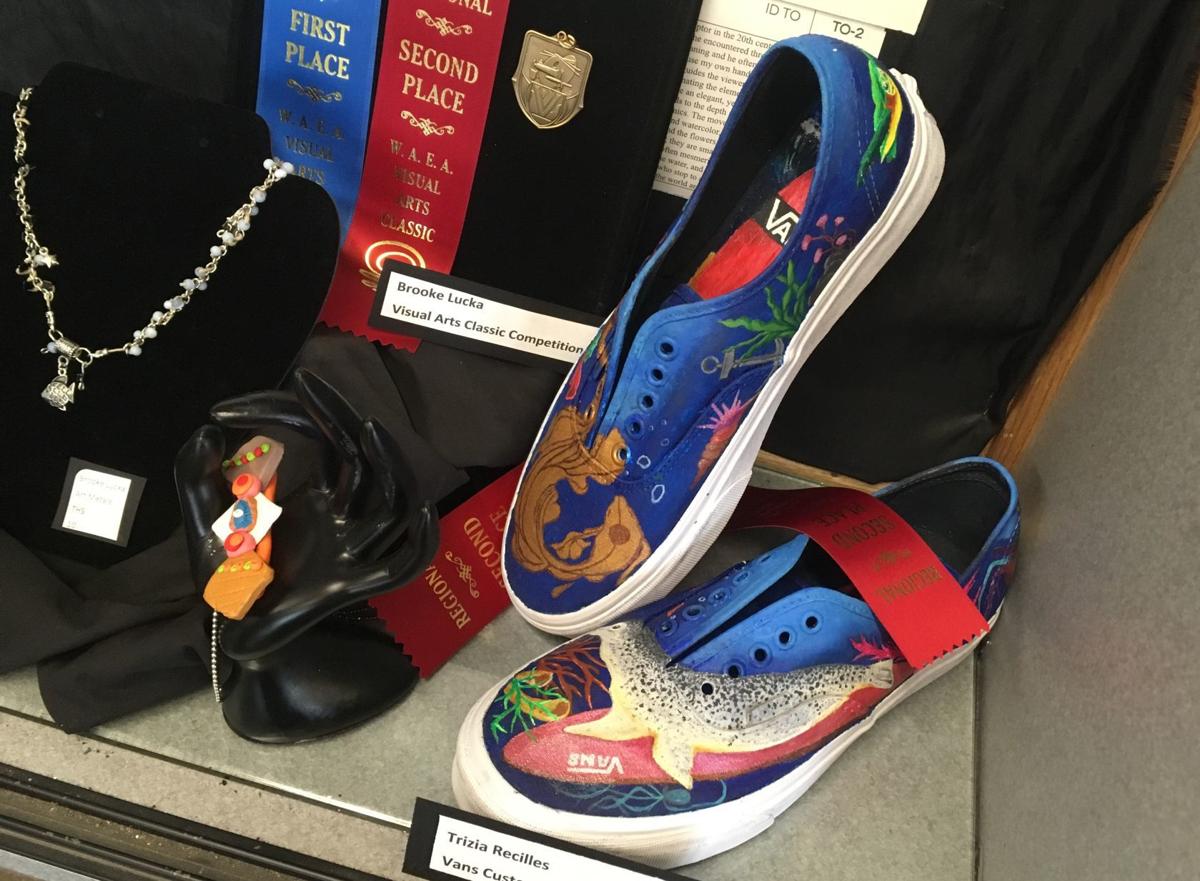 Out of 500 schools that participated, Tomah High School beat out 450 to make it into the top 50 of the annual VANS Custom Culture Contest.
This is the farthest Tomah has ever come in the contest after participating for four years, said THS art teacher Lisa Winchel.
"It's amazing," she said. "You have this hope and you think 'oh my gosh the (shoes) are so good,' but you just don't know because the competition is fierce. There are some good contenders in this bunch."
The contest aims to "inspire and empower high school students to embrace their creativity through art and design to bring attention to diminishing arts education budgets," according to customculture.vans.com.
The contest is a shoe design competition in which students create a unique shoe design based on one of the two themes — local flavor and Off the Wall — onto one of the provided pairs of VANS shoes, one pair per theme.
The grand prize is a $75,000 donation to the school's art program.
This year Hailey Vandervort designed the local flavor shoes and Trizia Recilles designed the Off the Wall shoes.
Vandervort said her design featured the idea of cranberry country, featuring a crane, cranberry bed, antique cranberry harvesting tool, a bee box and honeycomb.
"My mom helped me pick out the design of it because I wasn't 100 percent sure what to (include); I just drew out what I thought and went from there," she said. "On the inside of one shoe, I had a bee hive and then the other one I had a harvesting tool with cranberries on it. On the other front of the shoe I had just a cranberry bed with a sign. Then on the sides I did vines and cranberries and on the back I did honeycomb."
It was difficult at first to decorate the shoe, Vandervort said. But it got easier as she went on.
"I usually draw with pencil, so it's a lot different from that," she said. "I paint a little bit, but it was a lot different with the texture of the shoe. It was kind of hard at first but I pushed through, and I got it done and it actually turned out a lot better than I thought it would."
Winchel enjoyed how Vandervort showcased the area's cranberry industry with intricate details.
"The local flavor (piece) really does showcase one aspect of our local flavor here, which is the cranberry industry," she said. "Putting the crane and the bee box and the old (harvesting tool) was really cool, plus all of the little details she has with the honeycomb on the back and the cranberries on the sides."
Recilles' design focused on sea life, which included a surfing seal, a goldfish, coral reefs and various other sea life.
"I painted a surfboard with a seal on top of it, then on the other shoe there's a goldfish and turtles and corals and fishes and on the inside I have two surfboards," she said. "I actually didn't have that design at first, I actually had a bulldog that was surfing underwater, then I changed it into a seal because I like seals and I want to see them someday."
Winchel said the colors are what made Recilles' underwater design pop.
"Trizia's was also beautiful with her dazzling colors, her color palette was just so bright and beautiful," she said. "She did a great job."
Vandervort said it feels amazing to have her and Recilles designs make it to the top 50.
"It's awesome," she said. "It's kind of crazy to think that 450 school didn't get picked but small-town Tomah got picked."
["source=lacrossetribune"]